Ducati Scrambler 1100 Launch
Ducati Scrambler 1100 Launch
Ducati | Shanghai, China | December 2018
A multi-stage experience and live show for guests and VIPs steeped in style. A 4 week production rom start to finish, the epitome of an agile project.
Location
Reach
300 Ducati Fans, 60 Media, as well as VGC VIPs
Venue
Outstanding
This edgy branded public event featured live DJ's spinning music, branded food stands, a barber shop and nail salon activation, test drives, lucky draws and a stunning live show for fans and VIPs alike.
This young and dynamic Breand Experience was created with a combination of constructed and real elements, finished off with a bold and edgy Ducati event design.
The big reveal section of the brand show feature riders decked out in authentic street wear, coming out to a fresh urban soundtrack.
Strong visual design tied this multi-station event together in a variety of different styles.
A highlight of the day was this "slow rider" competition, with the winner receiving exclusive Ducati prizes
When Ducati – a long-time client of VOK DAMS China – approached us for an event concept to launch the new Scrambler 1100 and introduce the Scrambler "Land of Joy" into the China Market, VOK DAMS willingly joined the "Joy-volution" and set out to create a fun and immersive lifestyle experience that would excite guests in a way that truly represented the dynamic Ducati Scrambler brand.
In the weeks leading up to the event customer engagement was already peaking thanks to a specially designed WeChat-based pre-event campaign, so when the gates finally opened on December 8th Ducati fans were already lining up to experience Ducati's Land of Joy and the new Scrambler 1100 – a symbol of individuality and freedom, urban lifestyle, street style, and casual cool.
Created from a combination of 3D construction, real props and natural materials, the Ducati brand experience included a casino visit, local and international street foods from branded food kiosks, a barbershop makeover, and custom Scrambler nail art at a sit-down nail salon. Fans competed in a customized bike slow race competition, with the winner receiving a chance to visit the Ducati factory in Italy, and there were plenty of photo and selfie opportunities to satisfy the notoriously social media-savvy Chinese. The Scrambler 1100 bike unveiling moment further engaged the audience with a DJ performance, interactive games, competitions and a Ms. Scrambler contest.

The event photos looked exactly like our renderings!
Jackie Wang
Art Director, Shanghai
Porsche China Motors Limited | Mainland China
August 2024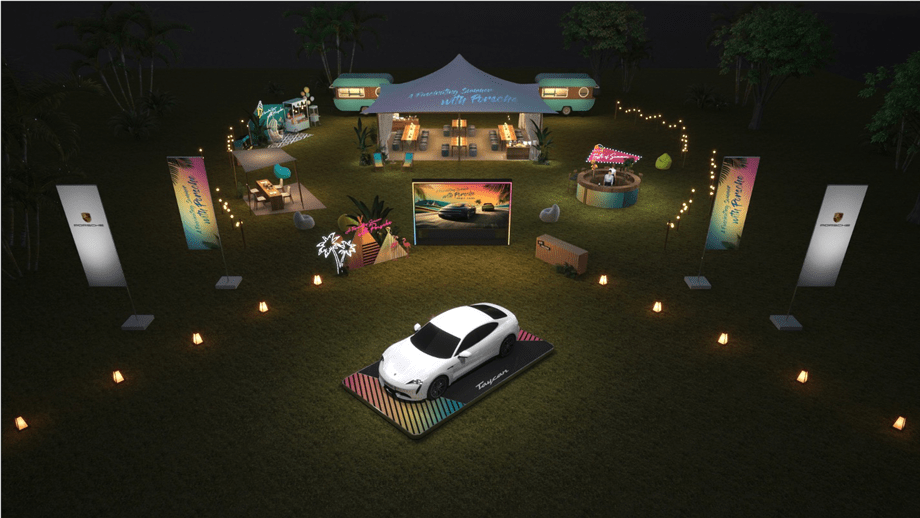 Volkswagen Brand China | Beijing
June 2022