Ferrari 296 GTS Media Launch & Private Preview
Ferrari 296 GTS Media Launch & Private Preview
Ferrari China | Hangzhou, Shenzhen, Beijing | May 2022
Hangzhou, Shenzhen and Beijing hosted the Ferrari 296 GTS Media Launch & Private Preview; an exciting reveal using lasers immersed guests into the experience while discovering more about the Ferrari product. An inviting setup based on the Casa Ferrari design created a premium moment for the guests.
LOCATION
Hangzhou, Shenzhen, Beijing
AUDIENCE
This pinnacle was achieved by combining two seemingly opposite factors – engineering and emotion.
It is this combination that inspired us for the Preview launch. The stage was composed by a rotating podium where the car was placed and a curved screen behind it.
This setting solution allowed us to build different scenarios for the product, making the experience more diverse and showing the versatility of the 296 GTS model.
From behind the audience, a group of lasers was shot during the reveal moment onto the car and the screen, immersing guests into the reveal and creating a one-of-a-kind and on brand memory.
The design was based on the iconic Casa Ferrari style. Arches and columns surrounded the environment, while cosy furniture created a warm atmosphere in the venue, without compromising a premium and luxury look.
Premium luxury, emotional impact and quality service were the key to Ferrari's brand event. The event followed closely the brand design language, together with reliable 3rd party vendor service, custom-designed food & drink menu (exclusive themed cocktail and mocktail drinks for each city) and high-quality materials and furniture, to deliver a true luxury car event.
The event took place in Hangzhou, Shenzhen and Beijing.
With such an impactful setup and reveal moment, the Ferrari 296 GTS Media Launch & Private Preview event received a great response from existing VIP customers.
In the aftermath of the experience we received quite a few satisfactory and complimentary feedback overall.
Porsche China Motors Limited | Mainland China
August 2024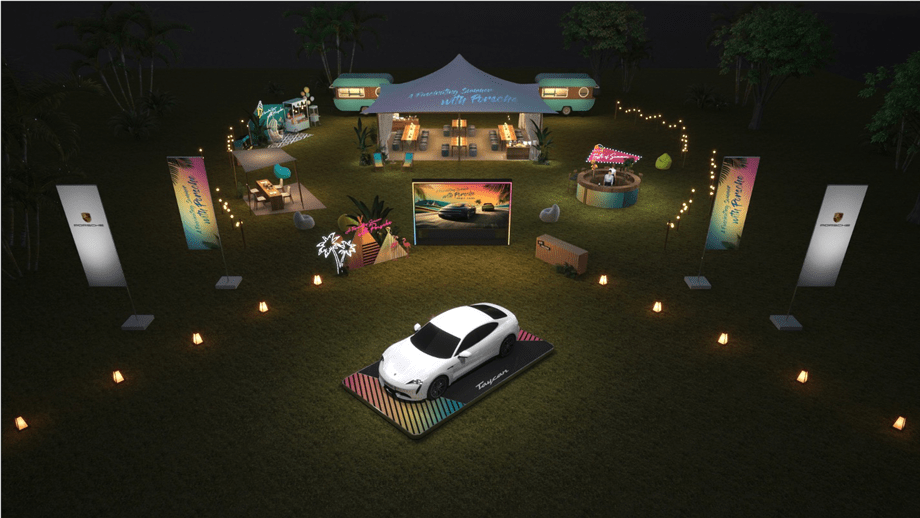 Volkswagen Brand China | Beijing
June 2022